The 'Mainstreaming Climate Resilience into Development Planning' (MCRDP) project is executed under the Strategic Programme for Climate Resilience (SPCR) by Ministry of Environment (MoE) and Cambodia Climate Change Alliance (CCCA) (an inter-agency network), with financing provided via ADB from the Strategic Climate Fund's Pilot Program for Climate Resilience (PPCR) and the Nordic Development Fund.
The objective of the MCRDP is to strengthen the capacity of Cambodian institutions and stakeholders to integrate climate concerns into development plans, programs and projects. The project has four outputs:
(i)      Capacity to coordinate PPCR investments and mainstream climate change adaptation concerns into national and sub-national planning, budgeting, and development strengthened;
(ii)     Feasibility studies for priority adaptation projects with a view to securing international funding conducted;
(iii)    Civil society support mechanism to fund community-based adaptation activities established and the capacity of civil society organizations and non-government organizations to mainstream climate resilience into their operations strengthened; and
(iv)  climate change adaptation knowledge in various sectors generated and disseminated.
The NCDDS component is oriented towards mainstreaming climate resilience at the sub-national levels, supported by capacity-building, pilot and demonstration activities, and promotion and application of innovative financing schemes.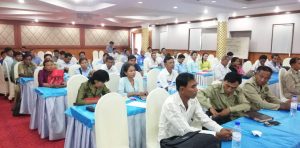 To fulfil the above objectives, National Committee for Sub-national Democratic Development Secretariat (NCDD-S) with technical assistance from national and international experts organized training of trainer (ToT) on Design and Implementation of Investment Project. The trainings were held in Battambang province from 26 – 27 April 2018 and in from 9 – 10 May 2018 Prey Veng province with 218 participants of which 40 are females from 24 provinces of both target and non-target provinces. The objective of this training is improving institutional and technical capacity of sub-national governments in mainstreaming climate resilience of investment projects.
During the opening session, Mr. Long Viseth Deputy Chief of Program Management and Support Division (PMSD), highlighted the importance of design and implementation of projects that are climate-proofing, adaptation and climate resilience as we have already feeling the effects of climate change caused by both natural and societal. In order to respond to this, NCDDs with the assistance from ADB has organized a serial of trainings both training of trainer and rolling out to build capacity of sub-national administration so that they are able to cope with the disaster risk management caused by climate change. He has also added that to respond to the climate change — a threat facing our entire planet — people everywhere must take part in practical, affordable solutions. Protecting nature today means a better planet for future generations.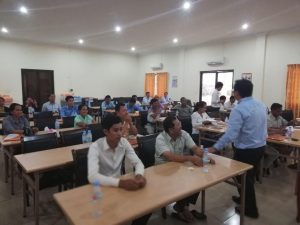 H.E Chhom Bunkhan, provincial council member and representative of Battambang province opened training by stressing that the impacts of climate change has already greatly affecting almost every country on every continent. The increased frequency and intensity of extreme weather events like hurricanes, wildfires, flushed floods and droughts threaten food supplies, drive people from their homes, separate families and jeopardize livelihoods. All of these effects increase the risk of conflict, hunger and poverty. Moreover, he added the visible evidence and climbing numbers demonstrate that climate change is not a distant or imaginary threat, but rather a growing and undeniable reality. H.E requested all participants to fully participated in the training and ask question to clarify so that they can use the knowledge gained from this training to share with others at their institutions.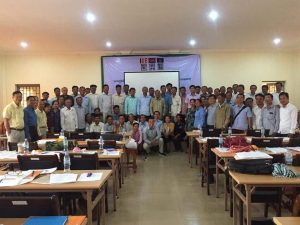 The session started with the presentations on common criteria for climate proofing for small rural infrastructure​ projects and followed by the presentation on performance based climate resilience grants for infrastructure and an introduction to climate resilient infrastructure; concepts of climate proofing of infrastructure projects, relevance for project feasibility. It also covered topics related to environment impacts assessment and climate change screening toolkits. Experts from NCDDs and SPCR were key resources persons during these training sessions.
During the roll out training sessions, not only the participants learned from the facilitators, but they also learned from each other; and the facilitators, in turn, learned from the participants with their particular site and sector-specific insight. The plenary and group discussions served as vehicles for sharing knowledge and experiences.
The workshops were successful, with active and enthusiastic participation by the participants, and consistently high ratings by the participants of interest and usefulness with the rate hundred percent highly satisfied with the training.